Window Treatments
We specialize in custom window treatments. We are a Hunter Douglas showcase dealer. Whether you need shades, shutters, romans or drapery panels we can help you to select the perfect product. 
Discover Your Design Style
At Tempting Interiors we believe in sustainability. We want to help clients create homes that they love long term. In order to accomplish that it is necessary to establish a design style (or two)!
Are you not sure where to start? Often times our clients see so many beautiful things online, but they're just not sure what will still appeal in a few years. The first step towards designing and furnishing intensionally is to know your design style. 
This service includes Rebecca coming out to your home for an in-person consult. During this appointment you will show her your home, your likes and dislikes, and the items and areas that bring you the most joy. The next step is to sit and review visuals of other spaces and discuss in depth what appeals to you. Rebecca will take this information back to the studio and draft a design style outline pdf. With this you will have a better understanding of your design style preferences as well as what to look for in furniture, colors, materials, and decor items. This service is offered for a flat fee of $425. 
Design Direction 
This service is an optional add-on after the discover your design style step. Rebecca will develop a design scheme for one particular room in your home. This pdf will help you to envision the ultimate design of that space and will include layered furniture, finishes, and decor. This service does not include the sourcing of these items. It is intended as a visual representation so that you can imagine all the elements of the room coming together. This design scheme will be a guide to assist you while you source furniture and decor at your leisure. You may choose to have two or three design schemes created so that you can pick your favorite. Each design scheme is offered for a flat fee of $185.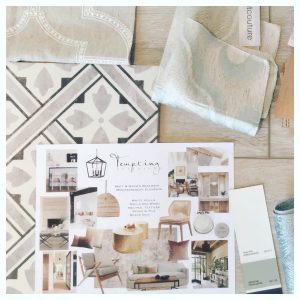 3D Furniture Layout
Do you wish you could see how furniture would fit in your home before purchasing? Do you want a new perspective on how to layout a room? If so, a 3D layout might be a very important step. 
This service includes a consult in your home during which Rebecca will measure the space and any furniture you might want to include. You will discuss the intended function of the room and other preferences. After the appointment Rebecca will draw up three furniture layout options for that space. Visuals of these layouts will be provided within three pdfs. Detailed dimensions of any proposed furniture for the space will also be provided. This service in based on one consult and one room at a flat fee of $525. 
Interactive in-home viewing of 3D layouts and additional layouts of other rooms with incur additional fees.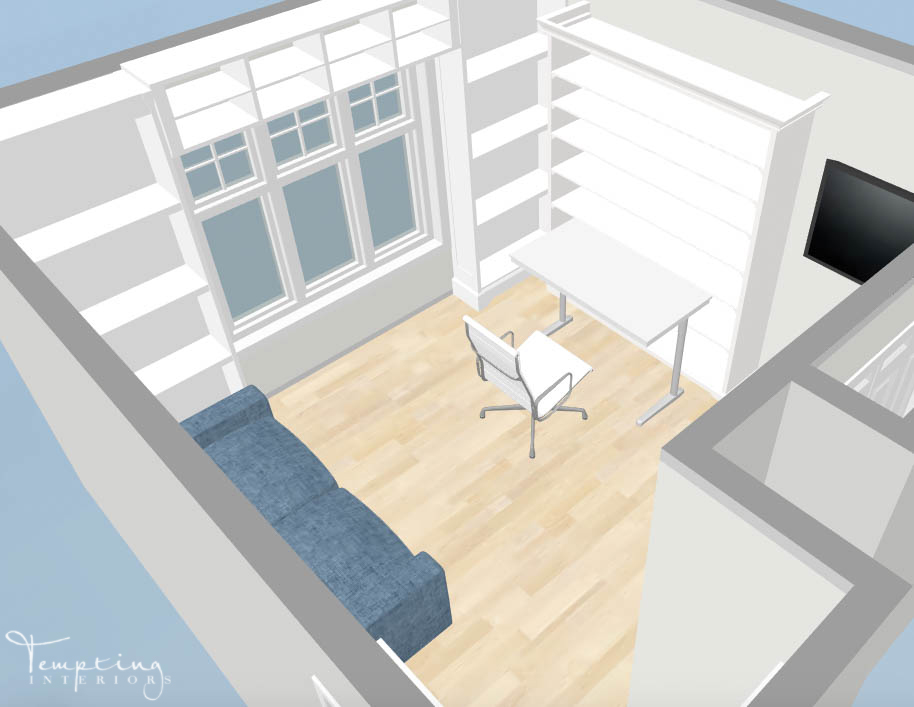 Full Service Interior Design
Tempting Interiors also offers full scale interior design. We connect with our clients personally and consider each family's story, style, functionality needs, and budget.  We source the materials, put together tangible design boards, and seek out furniture and decor. We oversee these projects from start to finish. We create sanctuaries unique to each individual that aim to inspire and improve well-being. We work with trusted craftsmen to beautify homes. We offer this service at $185 per hour and require a $1000 deposit to start each project.  
We do not offer remodeling services. If you are already working with a trusted contractor we are happy to consult on certain elements of the project. We are not responsible for contractors' work, and we do not oversee the sourcing or remodeling. 
Read more about our design style here.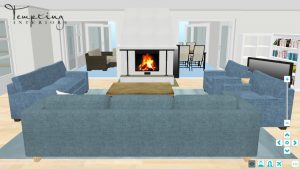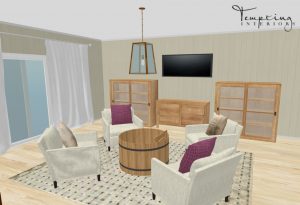 Shade Repairs
We are happy to help with shade repairs on occasion. Warranty shade repairs now must be shipped to Hunter Douglas headquarters. 
Custom Furniture
We build custom furniture either by hand or with the finest quality vendors in the industry.
Custom Cushions & Pillows
We create cushions and pillows to any shape or size.
Sale Items
Shop our collection of fine art and hand woven rugs at Woven & Curated.
Virtual Consultations