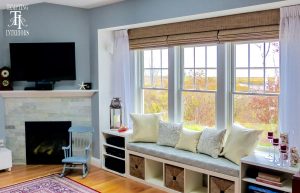 Two years ago Dave and Amy Tull decided to simplify their lives by selling the big house and moving to a small condo on the water. Challenged to weed through 40 years of accumulations, they kept only things related to their passions – family, music, and travel. Walls of the new home feature photos taken on their travels, including, in their living area, a display of pictures from their dream vacation – an African safari. We appreciated the opportunity to work with Dave and Amy to carry these themes throughout the rest of the space.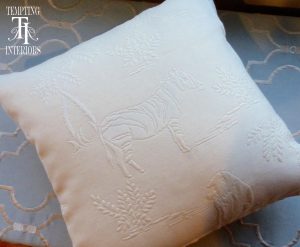 A testimonial from our clients Amy and Dave (travelingtulls.com):
The living area of our condo faces Plymouth Harbor. We love being on the water; love the sunsets and ever-changing waterfront view. Thus we were hesitant to block the view with window dressings. We investigated several window options before contacting Rebecca and TJ Guarino of Tempting Interiors. They understood our concerns and spent time working with us to come up with a way to soften the window yet maintain every inch of view. The Guarinos suggested a Provence woven wood shade by HunterDouglas mounted high in the window alcove with sheer panels on each side. This natural design would complement the view without overwhelming the space.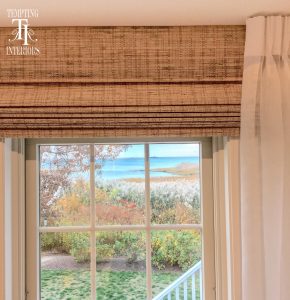 With a plan in mind, the team visited the Design Center in Boston to find fabrics that would reflect our style. The fabric they chose for our window seat and accent pillows was perfect – a  beautiful grey blue [Pindler Fabrics] with ivory accents. The ivory added warmth and a bit of shine while the blue was a perfect match to our wall color. The pattern coordinated well with tiling in our kitchen.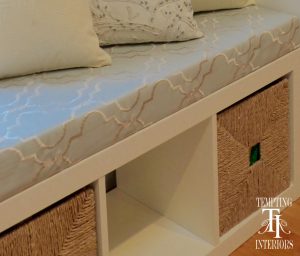 But the fabric the team chose for our large throw pillows is our favorite. The [Kravet] fabric is a soft yellow embossed with subtle images of African animals. The Guarinos found the perfect fabric – sophisticated yet fun, and reflective of our love of animals.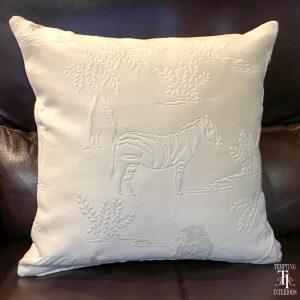 We are thrilled with our updated space and thank Tempting Interiors for helping us discover our style – Coastal Safari!